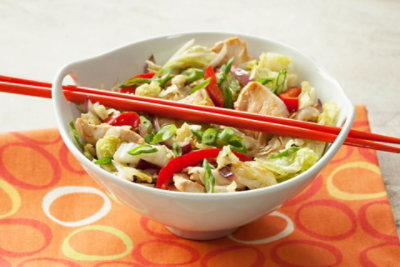 Napa Cabbage and Chicken Stir Fry
Got 15 minutes? That's all you need to make this incredible meal at home. Full of nutrition and flavor, it's the perfect quick dinner for busy evenings.
Total original price
* Estimated price based on adding all ingredients to cart.
Main Ingredients
2 tablespoon vegetable oil (divided)
2 medium chicken breasts (cut into 1/4 inch strips)
1 medium red onion (cut into 1/4 inch strips)
1 tablespoon Fresh Cuts minced garlic
1 tablespoon Fresh Cuts minced ginger
1 head Napa Cabbage (washed and dried, cut into 1/2 inch strips)
1 red bell pepper (cut into 1/4 inch julienned strips)
3 tablespoons soy sauce
3 tablespoons hoisin sauce
Optional
1/2 cup Fresh Cuts chopped Scallion/Green Onion
1/2 cup chopped raw peanuts
Cooking Instructions
Step 1
In a large sautee pan over medium heat add 1 tablespoon vegetable oil.  Add Napa Cabbage and red bell pepper. 
Step 2
Place chicken pieces in pan and sauté for 3-5 minutes until browned and cooked through. 
Step 3
Remove from pan and hold in a medium bowl Return pan to heat and add 1 tablespoon additional vegetable oil with onion, garlic and ginger. Stir for one minute.
Step 4
Sautee for 2 minutes. Add soy sauce and hoisin sauce. Cook additional 2-3 minutes, stirring constantly. Remove from heat. 
Step 5
Return chicken to pan and toss into vegetables. Garnish with scallion and peanuts if desired. Serve immediately.
All recipe ingredients should be cooked to a safe internal temperature according to USDA guidelines. After preparing a recipe, please store any leftovers in the refrigerator.