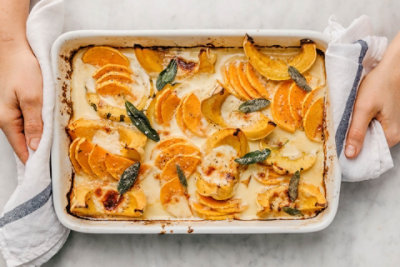 Cheesy Winter Squash Bake with Fried Sage
If you know the pleasure of a perfect potato gratin, you'll love this squash version--which is loaded with color and added nutrients from the golden-hued squash. The beauty of this luxe dish is its versatility--use any squash from butternut, delicata, acorn and carnival will work (peeling squash with more tough skins). Cream, gruyere, parmesan and garlic richen the finished dish, make it a total holiday-time treat.
Total original price
* Estimated price based on adding all ingredients to cart.
Main
1 Butternut or Honeynut squash, peeled, seeds removed and sliced in ¼-inch half-moons or rounds
1 Delicata or Carnival squash, skin on, seeds removed and sliced in ¼-inch rounds
1 Acorn or Sweet Dumpling squash, skin on, seeds removed and sliced in ¼-inch rounds
2 tablespoons extra virgin olive oil, plus more for frying
2 cups heavy cream
1 cup grated Gruyere Cheese
1 cup grated Parmigiano Reggiano or Pecorino
2 cloves garlic, minced, grated or pressed
6 tablespoons butter
1 bunch fresh sage
Cooking Instructions
Step 1
Preheat the oven to 400 degrees F. Lay the squash out on two rimmed baking sheets and drizzle with the oil. Sprinkle generously with salt and pepper and roast until it is just al dente, not falling apart but easy to pierce with a fork. Remove to let cool, slightly.
Step 2
Use the butter to coat a 9 x 13 pan. Arrange the squash in the pan; they won't shift much during baking, so take a minute to arrange them as you'd like them to appear when finished (loose and casual is great).
Step 3
In a small pan, warm the cream with the garlic until just fragrant, about 2 minutes; remove from the heat, whisk in the gruyere and parmesan cheese and stir. Pour or spoon the cream sauce over the squash, letting it pool between each piece (don't worry if the cheese hasn't completely melted, it will melt in the hot oven).
Step 4
Increase the heat to 450 degrees F and bake until bubbly and golden brown, and the cream is thickened, about 30 to 25 minutes.
Step 5
Meanwhile, heat about 1 inch of olive oil in a small pot or skillet. When it sizzles, drop the sage leaves in, a couple at a time, and cook until just crispy, 30 seconds to a minute. Remove with a slotted spoon to a paper-towel-lined plate. When the squash bake is finished, garnish with sage leaves and serve, warm.
All recipe ingredients should be cooked to a safe internal temperature according to USDA guidelines. After preparing a recipe, please store any leftovers in the refrigerator.