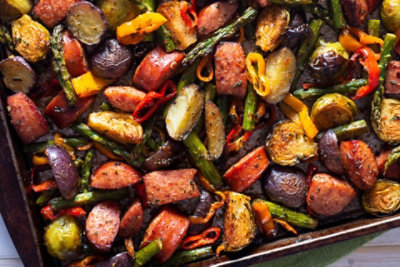 Beef 'N Cheddar Sausage Sheet Pan Dinner
Thanks to our friends at Thousand Hills, this recipe is your answer to a quick and delicious weeknight family meal! Their cattle are raised with no added hormones, no antibiotics, and no grain byproducts – Ever. We love their 100% grass-fed sausages contain no preservatives, no nitrates, no nitrites, no soy, and no MSG.
Total original price
* Estimated price based on adding all ingredients to cart.
Main
1 10oz package of Thousand Hills Beef 'N Cheddar Sausages
1 small red onion
1 lb. sweet potatoes (diced)
3 mini sweet peppers (sliced)
½ lb. Brussel Sprouts (remove outer layer and halve
Asparagus (cut into 2-3 inch pieces)
½ bag of Baby carrots
¼ cup of olive oil
2 tablespoons garlic (minced)
1 tablespoon Italian seasoning
Salt and pepper to taste
Grated parmesan
Cooking Instructions
Step 1
Preheat the oven to 400 degrees F.
Step 2
Dice the sweet potatoes into 1 inch cubes. In a bowl, combine all of the seasonings and mix well.
Step 3
Place the potatoes, baby carrots, and Brussel sprouts on the sheet pan. Drizzle 3 tablespoons olive oil and half of the seasoning mix on top. Gently mix with your hands to combine and place in the preheated oven for 20 minutes.
Step 4
Prepare the asparagus by trimming the ends and cutting into 2-3 inch pieces. Thinly slice the red onion and thickly slice the Beef 'N Cheddar Sausages.
Step 5
Remove the potatoes, carrots, and sprouts from the oven and push them to one side of the pan using a spatula. On the other side add the asparagus, onion, Beef 'N Cheddar Sausage, and minced garlic.
Step 6
Add the remaining olive oil and seasoning mixture
Step 7
Mix combine then toss ingredients with the potatoes, carrots, and sprouts.
Step 8
Bake for another 12-15 minutes or until the vegetables are roasted to your liking. Top the dish with freshly grated Parmesan.
Step 9
Salt and pepper to taste.
Step 10
Serve immediately on top of rice or by itself! Enjoy!
All recipe ingredients should be cooked to a safe internal temperature according to USDA guidelines. After preparing a recipe, please store any leftovers in the refrigerator.