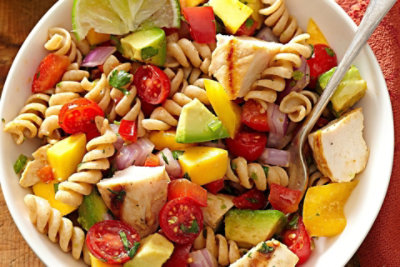 Recipe by
Better Homes & Gardens
Cilantro-Lime Pasta Salad
This bright salad gets its kick from cayenne pepper and a spicy jalapeño. Remember to wear rubber or plastic gloves when working with chile peppers, to avoid contact with the volatile oils that can burn your skin and eyes.
Total original price
* Estimated price based on adding all ingredients to cart.
Main Ingredients
4 ounces whole-wheat rotini,
¼ cup lime juice,
¼ cup fresh cilantro leaves,
2 tablespoons olive oil,
1 tablespoon sugar,
1 teaspoon salt, , divided
½ teaspoon garlic powder,
½ teaspoon ground cumin,
¼ teaspoon cayenne pepper,
1 pound skinless, boneless chicken breast halves,
¼ teaspoon ground black pepper,
1½ cups grape tomatoes, halved,
1 cup finely chopped red onion (1 large),
1 mango, , cut into 1/2-inch pieces
1 medium avocado, , cut into 1/2-inch pieces
¾ cup chopped yellow bell pepper (1 medium),
¾ cup chopped red bell pepper (1 medium),
1 fresh jalapeño pepper, seeded and finely chopped,
Lime wedges (optional),
Cooking Instructions
Step 1
Cook pasta according to package directions; drain.
Step 2
Meanwhile, combine lime juice, cilantro, oil, sugar, 1/2 teaspoon salt, garlic powder, cumin and cayenne in a blender. Cover and blend about 30 seconds or until well mixed. Set aside.
Step 3
Lightly coat the rack of an indoor electric grill with cooking spray. Preheat grill. Sprinkle chicken with the remaining 1/2 teaspoon salt and black pepper. Place chicken on grill rack. If using a grill with a cover, close lid. Grill until chicken is no longer pink (170°F). (For a covered grill, allow about 6 minutes. For an uncovered grill, allow 12 to 15 minutes, turning once halfway through grilling.) Cut chicken into bite-size pieces.
Step 4
In a large bowl, combine pasta, chicken, tomatoes, red onion, mango, avocado, bell peppers and jalapeño. Pour dressing over pasta mixture; toss gently to coat. If desired, serve with lime wedges.
All recipe ingredients should be cooked to a safe internal temperature according to USDA guidelines. After preparing a recipe, please store any leftovers in the refrigerator.