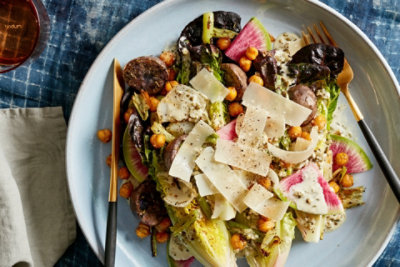 Little Gem Caesar with Crispy Chickpeas, Purple Potatoes, and Spring Onion
In the pantheon of salads, Caesar is definitely one of our absolute favorites. It's got everything: creaminess, crunchiness, and plenty of cheese. In this seasonally-inspired version, little gem lettuces are tossed in Caesar dressing and topped with herb-roasted chickpeas, spring onion, and gorgeous purple potatoes. And, of course, we didn't skimp on the Parmesan, which makes a tasty garnish at the end.
Total original price
* Estimated price based on adding all ingredients to cart.
Main Ingredients
2 cups chickpeas
1 1/2 pounds baby purple potatoes
1 clove garlic
5 ounces spring onions
2 lemons
2 tablespoons capers
12 ounces watermelon radish
1/4 teaspoon dried basil
1/4 teaspoon fennel seed
1/4 teaspoon dried oregano
1/4 teaspoon dried rosemary
1/2 teaspoon dried thyme
2 1/2 tablespoons olive oil
4 ounces mayonnaise
1/2 ounce grated Parmesan cheese
1 1/2 pounds little gem lettuce
2 ounces shaved Parmesan cheese
kosher salt
black pepper
Cooking Instructions
Step 1
Preheat oven to 450°F. Rinse chickpeas, pat very dry with paper towel, and add to a baking sheet (see Recipe Tip). Rinse potatoes, halve, and add to baking sheet with chickpeas. Mince garlic. Rinse remaining produce. Halve spring onions lengthwise through bulb and stem, then cut crosswise into 1-inch pieces. Halve lemons. Finely chop capers. Quarter radishes, then thinly slice. 
Step 2
On baking sheet, toss chickpeas and potatoes with spice mix, 2 tablespoons olive oil, .5 teaspoon salt and pepper as desired to coat. Transfer half of chickpeas and potatoes to a separate baking sheet, arranging chickpeas in a single layer and potatoes cut-side down. Roast until chickpeas are beginning to brown, 10-12 minutes. 
Step 3
After 10-12 minutes, remove 1 baking sheet from oven and add spring onions. Drizzle .5 tablespoon olive oil over spring onions and season with .25 teaspoon salt. Toss to combine, then return to oven and continue roasting with other baking sheet until chickpeas are crisp and vegetables are tender, 6-8 minutes more. 
Step 4
While vegetables roast, sprinkle .25 teaspoon salt over garlic on cutting board. Using a large knife, carefully scrape over mixture at a 45° angle, pressing down. Repeat until garlic is broken down and a paste forms (see Recipe Tip). Transfer to a medium bowl and add mayonnaise, grated Parmesan, juice of 2 lemons, and capers. Season with .25 teaspoon salt and pepper as desired and whisk to combine.
Step 5
Pat rinsed lettuce very dry with paper towel, halve lengthwise through the root, then cut lengthwise into 1-inch wide wedges. Arrange on serving dishes (for an even more flavorful salad, try sprinkling a little salt over the lettuces).
Step 6
Drizzle half of Caesar dressing over lettuce wedges and top with roasted chickpeas, purple potatoes, spring onion, and sliced radish. Drizzle over remaining dressing and garnish with shaved Parmesan. Dig in!
All recipe ingredients should be cooked to a safe internal temperature according to USDA guidelines. After preparing a recipe, please store any leftovers in the refrigerator.