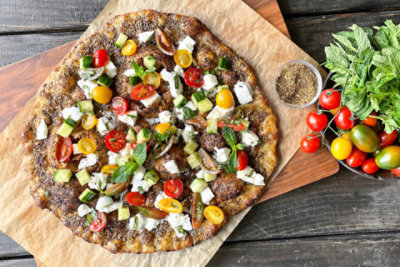 Za'atar Flat Bread topped with Guffanti Buffalo Mozzarella, Fresh Tomato, Cucumber & Mint
Total original price
* Estimated price based on adding all ingredients to cart.
Main
1 – 8.5 oz ball Guffanti Buffalo Mozzarella
2 – 8 oz balls Neapolitan pizza dough
3 oz (6 Tbsp) extra virgin olive oil, divided
4 Tbsp za'atar spice blend, plus a little extra for sprinkling
8 oz assorted heirloom cherry tomatoes, halved (1/4'd if large)
5 oz cucumber, ½" dice
1 Tbsp thinly sliced fresh mint
Kosher salt to taste
Black pepper to taste
Cooking Instructions
Step 1
Preheat oven to 550F with pizza stone or steel (or an upside-down heavy aluminum ½ sheet pan) on the lowest rack for at least 45 minutes.
Step 2
In a small bowl, stir together 4 Tbsp of the za'atar with ¼ C (4 Tbsp) extra virgin olive oil. Set aside.
Step 3
Drain the buffalo mozzarella. Cut the ball in half, then roughly cut each half into pieces about ½- ¾" and place onto a shallow plate to allow excess whey to drain.
Step 4
Combine the cut tomatoes and diced cucumber in a bowl and season with ¼" kosher salt and black pepper to taste.
Step 5
Work with 1 ball of dough at a time. Stretch the dough into 12-14" circle on a well-floured counter. Transfer dough onto a piece of parchment paper and top with half of the za'atar/oil mixture, spreading it to an even layer over the entire surface of the dough. Slide a pizza peel under the parchment and slide the flatbread onto the preheated stone. Cook for about 2 minutes until bubbly and starting to brown. Slip the parchment out from under the bread and rotate if needed for even browning (use a skewer to pop any large bubbles). When golden all around, transfer to a cooling rack. Immediately top with half of the mozzarella pieces, leaving any liquid behind. Repeat with remaining dough/za'atar and cheese.
Step 6
When ready to serve, drain the cucumber/tomatoes (discarding liquid) then dress with remaining olive oil, mint, and a sprinkle of fresh za'atar. Top each warm flatbread with half of the tomato mixture and serve immediately.
All recipe ingredients should be cooked to a safe internal temperature according to USDA guidelines. After preparing a recipe, please store any leftovers in the refrigerator.