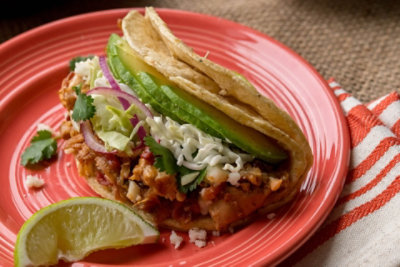 Tacombi Chicken Tinga Tacos
Total original price
* Estimated price based on adding all ingredients to cart.
Taco Filling
2 tablespoons avocado oil
1 white onion, thinly sliced
1 clove garlic, minced
5 plum tomatoes, diced
1 poblano pepper, quartered and thinly sliced
2 tablespoons chipotle adobo—more if more heat is desired
1/2 teaspoon dry Mexican oregano
Pinch of ground cumin
4 lbs. skinless chicken thighs—bone‐in or boneless.
2 sprigs fresh cilantro
3 cups chicken stock
Juice from 1 lime
1 tablespoon cider vinegar
Kosher salt to taste
Garnish
1/2 head of green cabbage, shredded thin
1 red onion, sliced thin and dressed with fresh lime juice
2 avocados sliced lengthwise
Cotija cheese, crumbled
Crema Mexicano—optional
Tortillas—2 packs fresh Vista Hermosa Corn tortillas (20 pcs)
Cooking Instructions
Step 1
Heat oil in a Dutch oven over medium heat. Add onion, garlic and poblano chile. Cook until softened, about 7 minutes. Add tomatoes, cumin and oregano. Allow juice from tomatoes to release. Cook mixture for 5–10 minutes. Add, chicken thighs, chipotle adobo, cilantro and chicken stock. Allow to come to simmer and reduce heat to low. Cover and allow to braise until chicken cooked through—about 30–40 minutes.
Step 2
While chicken thighs are braising, shred cabbage and set aside. Slice red onion and mix with juice of one lime and set aside. Prepare avocados by removing pits and slicing lengthwise in avocado skin, set aside. Prepare two small bowls with cotija cheese and crema if desired.
Step 3
When chicken thighs are cooked through and tender, remove chicken thighs from Dutch oven. Turn off heat. Allow chicken thighs to cool to touch. When cooled to touch shred by hand or using a fork. If using bone‐in, discard bones. Return shredded chicken to Dutch oven with tomato mixture and return heat to low and cook for 10 minutes. Add salt to taste, fresh lime juice and vinegar.
Step 4
per side. Place warmed tortillas on a plate lined with a kitchen towel, folded over to keep tortillas warm. Remove tinga taco filling from heat, may transfer into serving dish. Place tinga filling in center of tortilla and garnish with cabbage, red onion, cheese, crema and fresh cilantro…don't forget the fresh lime.
Step 6 :: Helpful Hints
bone-in chicken will add more richness to the finished dish
All recipe ingredients should be cooked to a safe internal temperature according to USDA guidelines. After preparing a recipe, please store any leftovers in the refrigerator.