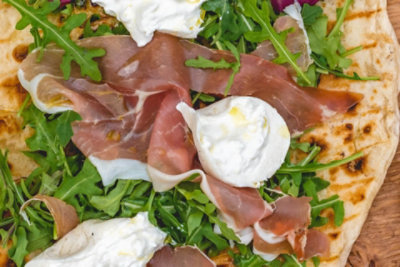 Grilled Pizza with Arugula Prosciutto Burrata Cheese
Total original price
* Estimated price based on adding all ingredients to cart.
Main
4–8 oz balls pizza dough, at room temperature
Extra virgin olive oil
Kosher salt & freshly cracked black pepper
Pizza Toppings—burrata, arugula, prosciutto
Finishes—extra virgin olive oil, aged balsamic vinegar or balsamic glaze, hot honey, red pepper flakes
Cooking Instructions
Step 1
Ignite 6 quarts hardwood charcoal in a chimney starter, burning until fully ignited (coals will be covered with white ash, about 20 mins). Dump the coals into your grill, spreading them evenly over about ¾ of the grill so you have a hot side and an area with no coals. Place the grill grate over top, cover and let the grate heat for 5–8 minutes, then scrape the grate well with your grill brush.
Step 2
While the coals are heating, clean and oil the grill grates so they are ready for the pizza dough. Stretch the pizza dough either by hand or using a rolling pin on a lightly floured board until you have a 10–12" round that is even in thickness (be careful not to let the middle get too thin or it will burn before the edges are cooked through). Lightly brush the top of the dough with oil, then transfer the dough to the grill—either by lifting it and laying it oiled side down over the hot side of the grill, or using a lightly floured pizza peel to slide the dough onto the hot side of the grill. Cook for 1–2 minutes until the top is covered with bubbles and the bottom is grill marked and lightly charred (check the bottom and if it's charring too quickly slide the dough over to the cooler side of the grill to finish cooking). Use tongs to flip the dough over and lightly cook the second side before transferring it back onto a cutting board with the grill marked side up. Repeat until all 4 dough rounds are grilled. Remove from the grill and finish with any fresh toppings (arugula, prosciutto and burrata would be added now), and drizzle pizza with extra virgin olive oil and any finishing glaze (aged balsamic, hot honey…). Serve immediately.
All recipe ingredients should be cooked to a safe internal temperature according to USDA guidelines. After preparing a recipe, please store any leftovers in the refrigerator.